Manufacturing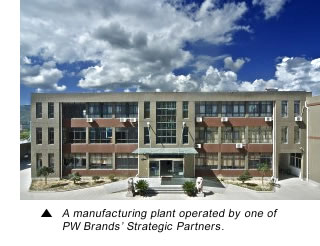 We ensure smooth transitions from development into manufacturing at the most strategically advantageous pricing by working with our strategic partners who provide expertise in design, prototyping and manufacturing. Our CAD Design & Prototyping services provides our clients the most effective concept-to-manufacturing program support for innovative products and product lines. Our team including our partners also includes experienced global sourcing professionals for reliable quality control documentation, manufacturing, engineering and logistics.
Our clients have incredible pressure to develop innovative products quicker, with higher quality, and within manufactured cost targets. PW Brands has responded to help improve the effectiveness of our clients' product innovation project investments and provided these benefits:
Our clients choose us because we do all this with an uncommon efficiency and speed, saving you time and money.
Reduced overall development costs: By leveraging our CAD team for back-end implementation and prototyping, we are able to lower the overall cost of development resources.
Shorter overall development cycles: PW Brand's President spends several months a year in Asia working with our manufacturers. Smooth transitions to PW Brands' strategic partners in Asia gives us technical "feet on the ground"  and results in shorter overall development cycles.
Improved Quality Control: Factory audits, quality control audits and supplier training ensure that QC processes are in place, hence increasing quality and reducing iterations before launch.
Optimized Manufactured Costs: Our professional sourcing team will quote with several factories (including your own factories) and will negotiate material pricing and contract terms to ensure optimized overall pricing for our clients.
Our contracted engineers control, monitor and rectify any production errors or make improvements that improve output. All products are thoroughly tested and controlled and meet any national or in-house standards. This includes ASTM standard salt spray testing or in-house load testing. Our carefully vetted and qualified overseas suppliers furnish the highest level of:
Manual Bending
CNC Bending
PPG Paint and Powder Coating
Anodizing
Logistics
Whether you're looking for 3rd party logistics providers and supply chain management in information technology, or e-commerce fulfillment, retail, apparel, or any other industry, we can easily accommodate to fit your business need.
Logistics Services
Assembly and Kitting
Warehousing
Pick, Pack & Ship